The Art World Commemorates Peter
Stained Glass Artwork — Album #17

In addition to the 550 famous "Peter" works of art (paintings, frescoes, etchings, sculptures, and engravings), Warren Camp also presents these thirty-four unique, stained glass creations from the 13th century to the early 20th century.
Whether named "Cephas," "Petrus," "Simon," "Simeon," "Simon Bar-Jonah," "Simon Peter," "The Rock," "Peter," "Apostle Peter," or "Saint Peter," each stained glass enlargement of this acclaimed Bible figure comes with factual and enlightening details: about the window designer and/or artist; when each work was created and where it can be seen; Bible-passage references applicable to depicted scenes; the background and unique highlights of each work; and photo sources with copyright notices.
To appreciate the importance of these stained glass creations of Saint Peter, enlarge each thumbnail image and read its caption!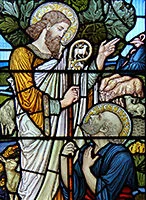 Stained Glass Windows of Saint Peter
---
"Peter" Has Indeed Left an Artistic Mark on Our World
In these albums, see numerous "Peter Masterpieces" created by renowned art masters from around the world.
• Album 1: "Peter, Alone" (29 images)
• Album 2: "Calling Apostle Peter" (12@), "Preaching the Gospel" (6@), and "Powerful Pentecost" (16@)
• Album 3: "Peter's Presence with Other Apostles" (28@) and "Walking on Water" (7@)
• Album 4: "Receiving the Keys of Heaven" (15@), "Transfiguration" (8@), and "Tribute Money" (14@)
• Album 5: "Peter Heals People" (23@) and "The Miraculous Catch of Fish" (13@)
• Album 6: "Peter Gets Freed from Prison" (30@)
• Album 7: "Miscellaneous New Testament Depictions of Peter" (35@)
• Album 8: "Christ Washes Peter's Feet" (26@)
• Album 9: "The Last Supper — Part 1" (33@ of 132)
• Album 10: "The Last Supper — Part 2" (33@ of 132)
• Album 11: "The Last Supper — Part 3" (34@ of 132)
• Album 12: "The Last Supper — Part 4" (32@ of 132)
• Album 13: "Christ's Agony in the Garden" (32@)
• Album 14: "Judas' Kiss," "Jesus' Betrayal," and "Malchus' Ear" (36@)
• Album 15: "Peter Denies Knowing Christ" (32@)
• Album 16: "Repentant Peter" (17@) and "Peter's Martyrdom/Crucifixion" (17@)
• • • And, in Album 17, see "Stained Glass Windows Featuring Saint Peter" (34@)
---
Intro Videos: "First Peter" and "Second Peter"
† Watch this summary video of "First Peter" created by The Bible Project.
† Here's the "Second Peter" summary video created by The Bible Project.
• Special Presentation: See more than sixty of Warren Camp's "Peter Masterpieces" on this 4-minute video clip titled "Holy Week through 100 Paintings," produced by Christian Art.
---