by Warren Camp
Brand-new series… Study on your own or join others in a group.
Introduction, Questions/Answers
Before we delve into the meaning of the text of "1st Peter" and "2nd Peter," this introduction will answer a few preliminary questions to help familiarize ourselves with the accounts therein. First, don't be concerned with whether to call these two accounts epistles, letters, or books; each of these titles is appropriate and will be used interchangeably throughout Warren Camp's Hearty Boys "Peter" commentaries. Often referred to as "First Peter" and "Second Peter," and written "1 Peter" and "2 Peter" (or in Roman numerals "I Peter" and "II Peter"), both accounts appear in the New Testament of the Bible, back to back, traditionally held to have been written by Apostle Peter.
Second, although both were written during a perilous time of persecution for Christians, Peter reveals that it was actually a time for all of Christ's believers to rejoice. He tells his readers and us in 1 Peter 3:18–19 to count it a privilege to suffer for the sake of Christ because our Savior suffered for them and us. Both letters reference Peter's personal experiences with Jesus, as well as the sermons he preached, which we find in Luke's volume of Acts. While Peter substantiates Satan as being the great enemy of every Christian, he also assures his readers of Christ's future return.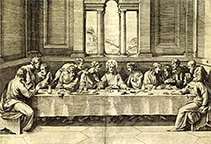 † Brand-new photo album: Warren has published his huge, brand-new photo album titled "Peter Masterpieces." In it he presents 550 famous "Peter" works of art including historic paintings, etchings, sculptures, engravings, drawings, stained glass, and other artwork monuments. They come from the Gothic (1100–1400), High Renaissance, Baroque, Rococo, Neoclassicism, and Romanticism (1800s) eras. All are popular works, designed and created by famous, notable artists, many of whom you'll likely recognize, including Rembrandt, Correggio, Raphael, Michelangelo, El Greco, Da Vinci, Masaccio, Huret, Ricci, Duccio, Galle, Tissot, Tintoretto, Botticelli, Dürer, Veneziano, Reni, Caravaggio, Rubens, Giotto, Titian, De Ribera, Fra Angelico, Strigel, Poussin, Cranach, Brown, Collaert, Bening, Goya, Sadeler, Bloch, Bassano, Vasari, and many more. Open his album.
Questions about Peter and His Two Epistles
Who was Peter, who'd written these two epistles/letters?
The opening verse of this first of two epistles claims that it was written by Peter. He was also called Simon (Matthew 10:2 NIV), Simeon (Acts 15:14 ESV), Simon Peter (Matt. 16:16 NIV; John 6:68 NIV), Cephas (John 1:42 NIV), and Simon Bar-Jonah, because his father was named Jonah (Matt. 16:17 ESV). We know clearly that he was the leader among Christ's apostles because all the gospel writers emphasize this fact by: (1) placing Peter's name at the head of each list of apostles (Matt. 10; Mark 3; Luke 6; Acts 1), and (2) including more information about him in these gospels than any person other than Christ. He explicitly identifies himself in v. 1 of both letters by stating that he is an "apostle of Jesus Christ."
Peter seems to have been a member of an ordinary family of fishermen who lived in Bethsaida, later in Capernaum. Son of his fisherman father, Jonah or Jonas or John (John 21:15 NIV), Peter was the brother of Andrew, a follower of John the Baptist; it was through John the Baptizer that Andrew quickly came to realize that Jesus was the Messiah. And it was Andrew who introduced Peter to Jesus and brought him to Christ (John 1:35–42); thereafter, Jesus called Peter and his brother Andrew and his partners James and John, to become "fishers of men." Subsequently, Peter was the first to openly declare that Jesus was Messiah (Matt. 16:16–19; Mark 8:27–33). And he was one of the first to enter Jesus' tomb and see that his body was gone as a result of conquering death, as had been prophesied.
Peter was one of Jesus' twelve disciples. Along with James and John, he was one of the inner group of Jesus' closest friends and followers. He's often portrayed in the gospels as someone with an exuberant faith and devotion to Jesus. For example, he was the one who agreed to step out of the boat and walk on water toward Jesus. He also appears to have been the spokesman for Jesus' twelve disciples. While we presume that he was sometimes impulsive or ignorant, based on some of the statements he made, he was probably just stating aloud what the other disciples were similarly thinking. Incidentally, being married, Peter's wife apparently accompanied him in his ministry (Mark 1:29–31; 1 Corinthians 9:5).
It was also Peter who denied Jesus (Luke 22:31–34, 54–71). Later however, he was lovingly restored by Jesus, thereby given a special commission (John 21:15–19). When the Holy Spirit came on the day of Pentecost, it was Peter, again, who was chief spokesman. With John at his side, he became the leader of ekklēsia, the very first Christian church in Jerusalem (Acts 2, 4, 10; Galatians 1 and 2).
When, where, to whom, and why were these two letters written?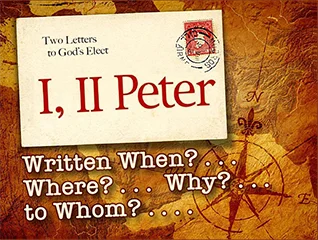 When? Although no explicit date for when the letters were written, the epistles of 1st and 2nd Peter were likely written between AD 60 and 68. The contents of the first epistle, reflecting impending persecutions, suggest a date shortly before Peter's death. For his second epistle, Christian historian, Eusebius, places Peter's martyrdom in Rome during the period of Nero's persecution (AD 64–68). Therefore, it's likely that 2 Peter was written between AD 65 and 68.
Where? The tradition regarding Peter's residence and death at Rome is very strong. Regarding where he might have written his first letter, some historians believe that it was written in Babylon (literally, 1 Pet. 5:13 NLT,) yet some say that Babylon figuratively represents Rome, since Rome was then the capital of the world, as Babylon had been in the past. There's no scriptural evidence documenting from where he wrote his first letter. The second letter is assumed by several commentators to have been written in Rome, where Peter was subsequently imprisoned and thereafter slain under Nero's orders. Irrespective of its actual place of origin, the second epistle is the work of a man under sentence, writing to a suffering church that he was unable to physically visit. It's not known why he'd been relocated to Rome where he became a martyr. Indeed, much about the last days of this apostle involves great uncertainty.
To Whom? The recipients of 1 Peter lived in five provinces in the northern, central, and western parts of Asia Minor (modern Turkey): Pontus, Galatia, Cappadocia, Asia, and Bithynia. Whether they'd been Jews or Gentiles, the recipients of his first epistle had been suffering various trials and afflictions (John 1:6 NIV); the possibility of greater and more severe difficulties was very real (3:13–17; 4:12–19). The exact nature of these problems isn't known, although there are similarities to those persecutions endured by early Christians, as described in Acts and in some of Paul's epistles.
The destination and recipients of his second epistle must have been the same as those of the first epistle, according to what he'd written in 2 Pet. 3:1. Both epistles were addressed to persons who resided in Asia Minor; in both they're regarded as living in the midst of trials.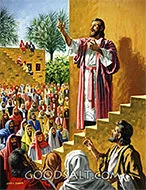 Why? The basic theme of 1 Peter is "the living hope in the midst of suffering." It's a letter that Apostle Peter wrote to believers (called "exiles" in 1:1) who'd been dispersed throughout the ancient world and were under intense persecution. Undoubtedly, if anyone understood persecution, it was Peter. He'd been beaten, threatened, punished, and jailed for preaching God's word. Thankfully, he knew what was needed to endure such challenges and suffering, without bitterness and without losing hope; we see in him an exemplar of great faith, living an obedient, victorious life. His understanding and appreciation of the importance of having living hope in Jesus was his message. He'll direct you in his first epistle to follow Christ's example devotedly.
Having lived in close proximity to Jesus Christ for more than three years, Apostle Peter became the best possible example of what it looked like to live in holiness amid a hostile world. More than any other man who walked the earth, Jesus modeled that "holy" lifestyle. Peter therefore pointed his readers in the best possible direction, toward Jesus himself. Believers, then and today, are to submit to authority — albeit unjust authority — in the government, the home, the workplace. But we're to do so with Jesus becoming the focal point by which we live amid trials and tribulations. As we persevere in the person and work of Christ, true believers can always cling to hope, in the midst of suffering.
Second Peter is a personal message from the aged apostle who was about to finish his career. It's an intense, passionate farewell speech, addressed to the same churches as First Peter. In his second letter, Peter challenges Jesus' followers to continue growing in their faith, love, and service to God. Chapter one focuses on the truth of God's word, followed by dire warnings; chapter 2 tells readers to not follow false prophets and false teachers who were beginning to infiltrate the churches; chapter 3 begins with, "I have written both of [these letters] as reminders to stimulate you to wholesome thinking" (2 Pet. 3:1), thereby warning young church bodies under his charge about his own approaching death, while highlighting the imminence of Christ's return. In the face of these eventualities, he exhorted Christians not to become corrupted by heretical teachings, which is the chief concern of his second epistle. He strongly stressed the authenticity of God's word and the sure return of Lord Jesus.
What are some of the key points of "First and Second Peter"?
First Peter: In his first letter, Peter gives persecuted Christians a powerful reminder that they're to remain hopeful in the midst of their suffering. From the time of Abraham, God's people were a misunderstood minority who were to expect to face hostility while following Jesus' rule. So Peter offers hope to persecuted Christians, guiding them with practical instruction on living a life that devotedly follows Jesus.
Persecution is a gift that brings hope: According to BibleProject, "Apostles are chosen by God. Their persecution is actually a gift because it offers them 'hope in the midst of their suffering,' giving them a chance to show others the surprising generosity and love of Jesus, which is fueled by hope in His return and victory over evil. Peter is hopeful that their imitation of Jesus and the demonstration of His upside-down kingdom, which includes baptism and service, will give power to their words as they bear witness to God's mercy and show people the beautiful truth about Jesus."
Key words in 1 Peter are "hope," found in 1:3, 13, 21; and 3:15. Peter has been called "the apostle of hope," as John was the apostle of love and Paul the apostle of faith. Another word (in one form or another) is used more than fifteen times in this short first epistle: "suffering" — the suffering of Christ and of Christians who follow him. The suffering and death of Jesus Christ on Calvary's cross becomes the pattern for Christian living and service today. As we read 1 Peter, we see a transformed man and a theology that turned his thinking and lifestyle upside-down.
In the gospels, Peter wanted God's kingdom to come without human suffering; he wanted Jesus to quickly overthrow man's oppressive government and establish a godly one. But in his first epistle, Peter writes about our heavenly hope — the kingdom of God that will come after his saints suffer for their faith. He doesn't represent suffering as the exception; it's the rule for true believers.
Second Peter: Knowing that his time was short (1:13–15) and the churches with whom he'd associated faced immediate danger (2:1–3), Peter called upon his readers to refresh their memories (1:13) and stimulate their thinking (3:1–2) so that they'd remember his teaching (1:15). He challenged believers to become more mature in their faith by adding to it specific Christian virtues, enabling them to become effective and productive in their knowledge of Jesus Christ (1:5–9). He wanted readers to strengthen their faith so they'd be able to persevere in the face of false teachers who'd crept in and adversely compromised the churches.
The key word in 2nd Peter is "knowledge." It and its related words occur at least 13 times in the NIV. After giving a final warning, Peter again encouraged them to grow in the grace and "knowledge" of their Lord and Savior, Jesus Christ. He concluded with a word of praise to his Lord and Savior (3:18).
Why does Peter include Old Testament references?
The New Testament is our divinely inspired commentary on the Old Testament. When studying a NT passage, it's often helpful to see how biblical authors understood similar doctrines and concepts. In his two epistles, Apostle Peter puts many relevant Old Testament passage references into context for his NT readers.
Peter's familiarity with OT law and its prophets enabled him to explain various OT passages in light of the life and work of Christ Jesus, Messiah. Here are a few notable examples: In 1 Pet. 1:16, he quotes Leviticus 11:44: ". . . be holy, for I am holy. . ." Putting it into context, he prefaces it by explaining that holiness isn't achieved by keeping the law; it comes instead by the grace bestowed upon all who believe in Christ (1 Pet. 1:13). Peter therefore highlights Christ as being the essential and precious "cornerstone," as seen in Isaiah 28:16 and Psalm 118:22; the Jews rejected Christ Jesus through their disobedience and unbelief. Additional OT references include, among others, those of the sinless Christ (1 Pet. 2:22 relates to Isa. 53:9) and recommendations to be righteous and holy by living through God's power, which inevitably yields blessings (1 Pet. 3:10–12 reflects on Psalm 34:12–16 and 1 Pet. 5:5 focuses on humility as does Proverb 3:34). And in 1 Pet. 3:3–18, we find encouraging reminders to patiently wait for Jesus to return, as prophesied in Psalm 90:4, 102:26–27; Isa. 65:17, and 66:22).
How familiar are you with these passages?
Do you recall key verses from your previous readings and studies of Peter's two epistles? Here are a few:
1 Pet. 1:3; 1:24–25; 2:9; 3:15 4:8; 5:8–9; / 2 Pet. 1:3–4; 2:17–18; 3:9; 3:18.
How applicable are "First Peter" and "Second Peter" for us today?
Lord Jesus declares throughout the New Testament that the assurance of eternal life is given to all Christians. We'll soon learn from Peter's first letter one way to identify with Christ: We're to share in the suffering he endured for us. For us that would mean enduring insults and slurs from those who call us "prideful," blaming us for having begun to compare ourselves with other people instead of keeping our eyes on Jesus as our primary example (2 Cor. 10:12). Humility, not pride, should characterize the life of a believer. For us to attempt to endure insults is far less than what Christ suffered on the cross in our behalf. Peter will tell us to stand up for what we know and believe is right and truthful; doing that, we're to rejoice whenever the world and Satan aim to break or compromise our life.
In his second letter, Peter makes it very clear to us today that we Christians are nearer to our Lord's return than the first-century Christians to whom this follow-up epistle was written. Mature Christians must be vigilant and wary of the many frauds and impostors who attempt to present themselves on television and digital media as being true Christian leaders. We're also reminded that immature Christians have been "taken in" by such quackery and false interpretations of Scriptures. Every born-again Christian is urged by Peter to be so familiar with God's word that we'll successfully discern truth from error.
Peter's same prescription for "faith growth" in 2 Pet. 1:5–11, when applied to our lives, can assure us a rich reward "into the eternal kingdom of our Lord and Savior Jesus Christ" (vv. 10–11). The basic cornerstone for our faith is — and will always be the same — the word of God that Peter preached devotedly.
---
Intro Video: "First Peter"
† Watch this overview video of First Peter created by BibleProject.
---