Apostle John's Three Letters . . . 1 John 4:12–16a
Love Is Essential to Salvation
Today we'll see John the Elder continuing to highlight the motif of love, emphasizing the assurance of salvation. We can easily see such love displayed for us in Christ's death (4:7–12), followed by the Spirit's presentation of God's love (4.13–16a). Once God's love is truly grasped, all fear gets removed because "perfect love drives out fear" (4:18). The moment we grasp the truth of God's perfect, divine love, we ought to be stimulated to love our brothers and sisters.
Satan continually attempts to shake our assurance of salvation. John informed his initial readers that false teachers were spreading heresy among the house churches in Ephesus, leaving to form new churches and encouraging many church-body members to question whether what they'd been taught was true. Apostle John, therefore, wrote this letter to his dear children so that he'd effectively assure them that they were certainly living in a God-honoring fellowship with Christ.
John's two-part statement (v. 12) about God abiding in us and his love being perfected in us, is an apt segue into 4:13–21. Today's study will reveal how John discusses the important element of having an abiding relationship (vv. 13–16); in next week's study, he'll talk about God's love being perfected in us (vv. 17–21).
"If We Love One Another . . ." (1 John 4:12)
Today's short passage focuses on these two essential truths: (1) Loving our brethren is evidence that we Christians abide in God as he lives in us; (2) God is the "standard" for love, in that his actions reveal to us what love is and how it manifests itself. What John is saying to us begins with this revelation:
12No one has ever seen God; but if we love one another, God lives in us and his love is made complete in us (4:12).
The false teachers in John's house churches said that they'd seen God and had special knowledge about him. This couldn't have been true because "no one has ever seen God." From the Scriptures, we know that no one can look upon the face of God and live. Moses came the closest (Exodus 33:18–34:9) when he saw the back side of God when he passed by. It'll be in heaven only where we'll be rid of all sin and be able to behold God, face to face (Revelation 22:4).
When John writes "No one has ever seen God," he means that the unseen God, who was historically revealed in the incarnation of the Son, is now revealed by the indwelling presence of his Holy Spirit, in his people, when they love one another. The point he makes is that if we see God's love surfacing in our relationships with others, that's proof of God's living in and abiding in us.
Jesus had previously told the disciples, "Anyone who has seen me has seen the Father" (John 14:9), meaning that the Spirit of God lived within him. Jesus was and is the manifestation of the Godhead on the earth. When we're full of God's love, we're full of Jesus. The more "full of Jesus" we are, the more we love others. Today, we believers see God by looking at Jesus, who's the likeness of the Father.
If we love one another, God lives in us and loves us completely by (1) Jesus' Spirit, (2) his communications of love, and (3) his gracious presence and fellowship with which he gratifies his saints. Christians who, through the Spirit of God, love one another can expect God's presence because they live in peace. As such, the God of love and peace will abide in them. When John tells us that "God is love" (4:8), such "love" is only of him because he is both the object and the author of agape love.
In last week's passage, John had argued that there's a conclusive demonstration of God's presence and activity in the Christian community in the way that Christians love one another (vv. 7–12). Now he maintains that God's love for us is exhibited in Father God's sending of his Son, Jesus, as the world's Savior (vv. 15–16a). When people of the world look on us Christians, what do they see? Do they see Christ in us? Do they see God in us? John is implying herein that, just as Christ's crucifixion and resurrection 2,000 years ago addressed mankind's essential needs, the answer to mankind's needs today is for us to show that same agape love to all Christians.
The Father Has Given Us His Spirit and His Son (vv. 13–14)
13This is how we know that we live in him and he in us: He has given us of his Spirit. 14And we have seen and testify that the Father has sent his Son to be the Savior of the world (4:13–14).
Where the Spirit of God is, there God is. Verse 13 informs us that we can be assured of having an intimate, one-on-0ne relationship with Jesus, only because of the presence and power of the Spirit of God. Putting v. 13a in context, John's likely saying, Dear children: Don't focus on subjective feelings. Instead, look in your life for evidence of the production of fruit of the Spirit.
John is telling us that the first way for Christians to demonstrate love, as Christ has done with his sacrificial death, is to exemplify Christlike living by fully utilizing the Spirit-filled agape love of Jesus. It doesn't matter what we say or testify; it matters essentially what we do in our life. The second way we're to reveal our true agape love for Christians is demonstrated presently in v. 14; it's in the apostolic message of the cross. We Christians are obligated to show practical love. For us to truly and meaningfully love someone, we must share with them the gospel of Christ — we need to "preach the cross" to them.
We know that God sent Jesus to rescue us. Although nobody has ever seen God, we know that Father God sent Jesus from heaven to earth for an essential purpose: to offer salvation to believers who admit their sinfulness and desire to be saved from sin and death (as shown in this Bible Project video titled "Khata: Sin"). Elder John and his friends were there when Jesus lived with them; they saw Christ with their own eyes and were taught by him. They knew with certainty that he was the Son of God whom God had sent to this world. Subsequently, when Jesus went to heaven to sit at the right hand of the Father, he promised to send the Holy Spirit to dwell within each of his children. The fact that we have the Spirit within us, tells us that Jesus remains within us.
The "we" in "we have seen," represents apostles: Christ's appointed eye-witnesses who testify to the facts concerning him. For us, the internal evidence of the indwelling Spirit (v. 13) is confirmed by the external evidence the eye-witnesses presented regarding the fact that Father God had "sent his Son to be the Savior of the world." The purpose of God presenting himself in a flesh form on earth was to offer salvation to all who'd believe that he was their Savior. Jesus, who was the Word of God in heaven, took on a flesh form while on earth as the Son of God to save us. He was named "Jesus," which means Savior and Lord.
Verse 14's "we have seen and testify" speaks to Christians' duty, as Christ's apostles today, to bear witness to the world of this great truth: that God has sent his Son to be a Savior. John expounds on the love of God by presenting "evidence" that Father God had certainly manifested his love. In v. 14, he reiterates such evidence by saying that he'd actually seen him who'd been sent; as a consequence, he had the clearest demonstration that what he deemed so essential had actually occurred. We apostles, Christ's appointed eye-witnesses, are also to testify to the facts concerning Jesus as John had done. The Spirit of God is the Spirit of love. The stipulation of the gospel, related to the forgiveness of sin and the salvation of sinners, as a direct outcome of God's glory and justice, shows that "God is love."
What exactly is the apostolic message of the cross? John first states the apostolic testimony about Christ in v. 14, before applying it to the one who confesses this truth (v. 15). He states this essential message in the next verse.
Jesus Lives in Us as We Live in Him (v. 15)
If anyone acknowledges that Jesus is the Son of God, God lives in them and they in God (4:15).
True Christians believe that Jesus is Father God's son. God dwells in him who acknowledges that Jesus is God's one and only Son, just as he lives and abides in God. This important verse should encourage us to have an open and hearty admission of Christ being the Son of God and the only Savior of sinners. We also ought to publicly profess his name and have a strong, unwavering faith in him.
Verse 15's doctrinal test is similar to what Matthew wrote in his gospel account: "Whoever acknowledges me before others, I will also acknowledge before my Father in heaven. But whoever disowns me before others, I will disown before my Father in heaven" (Matt. 10:32–33). These very words were spoken by Jesus himself. There can be no question when we confess the truth; we know in our heart and confess through our mouth that Jesus lives in us as we live in him.
Christians must acknowledge and assert this three-part requirement: that (1) Jesus is the Son of God, (2) God lives in every Christian, and (3) and every Christian lives in God. We're to confess the truth about Christ, thereby bringing new birth through the indwelling Spirit to us and to those to whom we testify. First John is an epistle that assures its readers and believers that they're certainly a child of God who shares an intimate fellowship with the Lord. We're to believe wholeheartedly the doctrine that historical, biblical Jesus, who is the Son of Father God, came as a man from heaven to earth. There can be absolutely no doubt of that fact in our heart, mind, and mouth! In addition to that doctrinal message, John introduces to us a second message in v. 16a: We can depend on God's love.
Regarding "new birth," which Jesus defined to Nicodemus during an evening encounter (John 3:6–8), every Christian receives new life from the Holy Spirit. The moment we're "born of the Spirit," the Spirit of the living God indwells us.
Being Sure that God Loves Us (v. 16a)
And so we know and rely on the love God has for us (4:16a). . .
Here, the Elder easily reasserts his earlier thesis that "God is love," a statement that's difficult to describe, enhance, or put into words. Following the doctrinal message of v.15, we must realize the apostolic content asserted in v. 16a. We've not only known of God's love for us and our requirement to love him and all brothers and sisters, we must honestly believe it. Once we fully appreciate the love that Christ has for us and his command to "love one another," we'll find ourselves loving others more quickly and easily. But we must rely on the fact that God loves us as his children.
The admission of Jesus being the Son of God and the world's Savior puts in a nutshell John's appreciation of the meaning and purpose of Jesus. After all, he's the Son of God. And because he's Father God's Son, he stands in a unique relationship with the Father; he therefore brings about salvation (v. 14), the indwelling of God with us (v. 15) and our love of God (v. 16).
The Elder encourages us to know assuredly a number of essential truths. We're to remain dependable, reliable, and safe in our relationship with God. Clearly in today's text, John mentions God's abiding or living in us (v. 12). Knowing that, he and God want us to rest assured that we "know that we live in him and he in us" (v. 13). Then in vv. 13, 15, and 16, he repeats the same truth in terms of mutual abiding: God in us and we in God. John wants to give us the assurance of this mutual, abiding relationship. See in this graphic how assuring the Elder is in his first epistle.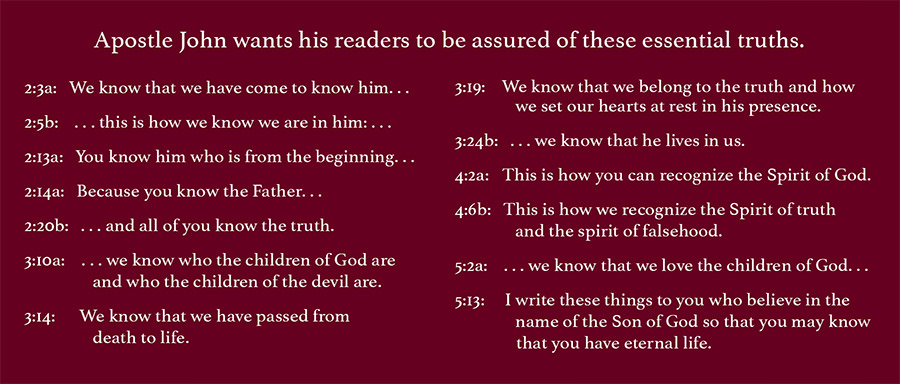 ---
It Makes You Wonder . . .
Q. 1 Have you ever "preached the gospel of the cross" to a non-believer? How did it go for each of you?
Q. 2 Why is brotherly love necessary in order to "know" God?
Q. 3 Does v. 15 mean that confession of Christ is all that's necessary to have God dwell in a person? If so, why?
---
New International Version (NIV)
[View it in a different version by clicking here; also listen to chapter 4 narrated by Max McLean.]
---

---