Hebrews 13:17–25 . . .
"Benediction and Greetings"
We've come to this epistle's closing passages. It's now essential for us to recall what we reviewed in Warren's previous Bible-study commentary titled "Concluding Exhortations" (13:1–16). In it, the author exhorts his audience to evaluate the teachings of their leaders to see if they might be attempting to lead them back into the old covenant's bondage. However, if they're actively living in ways that are consistent with the gospel of Jesus Christ, they're to obey his teachings because every leader is accountable to his and her followers. The closing verses of last week's passage encouraged readers to not only remember their leaders but also imitate their faith.
This week the author will reiterate the requirement for believers to have confidence in their church's leaders (v. 17), always submitting to their authority. He'll then appeal to his audience, urging them to pray for him, for those with him, and for his soon and safe return to them. Finally, in vv. 20–25, he'll send them his benediction and concluding greetings.
The great pastoral heart of the writer is revealed in his closing words. This chapter is a natural conclusion for man who's completed his written teaching and warnings and will now present endearing words of loving application. One by one, he'll touch on a variety of aspects of Christian behavior, attempting to express the importance, value, and power of Christian truth to those who hadn't fully devoted themselves to following Christ Jesus.
Confidence and Prayer (13:17–19)
The opening passage starts off with the author ordering his audience to be responsive to their pastoral leaders who work under God's strict supervision. Everyone must listen to their counsel while contributing to the joy of their leadership. He then tells them that he and them need to be prayed for by one another.
17Have confidence in your leaders and submit to their authority, because they keep watch over you as those who must give an account. Do this so that their work will be a joy, not a burden, for that would be of no benefit to you. 18Pray for us. We are sure that we have a clear conscience and desire to live honorably in every way. 19I particularly urge you to pray so that I may be restored to you soon (13:17–19).
This epistle's closing section has taken a more personal turn. Still thinking of leaders and their need of support from those whom they lead, the writer asks his readers to pray for him (vv. 18–19). And in vv. 20–21, he presents to them a benediction of remarkable power and beauty. His prayer request relates to his own aspiration to live in good conscience while hopefully being able soon to make a personal visit (v. 19).
Clearly, the author remained humble in his letter. He didn't include one mention of his name. There was no need for him to be recognized or made famous, or to be seen as being important to local churches. He was simply making a concerted effort to teach the Bible responsibly. It's obvious that he served God loyally, similar to the ways in which he urged his audience to do. And it's only here, at the end of his letter, that he refers to himself, only because he asks his readers to pray. He addressed this letter to Christians who weren't mature in their relationship with God (5:11–14) and were weak in faith (6:12). But he was humble enough to ask them to "Pray for us." We don't know the problems but he needed prayer.
The opening verse tells us that laypeople are to submit to and obey church leaders. The author isn't likely speaking of absolute obedience; Scripture never sets anyone in absolute authority over us, besides God himself. Furthermore, John Calvin notes in his commentary on this verse that the qualifier "they keep watch over you" shows that kind of obedience. We're to submit to church leaders who, for the most part, strive to preach God's Word, teach sound doctrine, and love God's people.
For believers today, when our church leaders love God and his people, seek to proclaim truth, and accordingly lead congregants, we should be inclined to take their godly counsel seriously, heed their warnings, and follow their leadership. Verse 17 doesn't exhort church body members to submit grudgingly. It instead urges believers to submit joyfully in willing obedience. We parishioners are to allow our church leaders to direct us with joy, not with groaning about burdens, ideally doing what we can to make our leaders glad and eager to shepherd us.
Too often it's easy to complain about our church leaders; it's much harder to submit to them as God calls us to do. But as we see in the opening verse, the Lord calls us to submit to God-honoring leaders in a way that makes them glad to do their jobs. Let's submit to those whom God has appointed, so that we can enjoy the many benefits that God provides through their service.
Benediction and Final Greetings (vv. 20–21)
At this epistle's end, we find the author's pastoral benediction. His final words to readers include one of Scripture's most famous farewells. He asks God, who puts all things together and makes everything whole and made a lasting mark through the sacrifice of Jesus — the sacrifice of blood that sealed the eternal new covenant — leading Jesus, our great Shepherd, up and alive from the dead, to make us into what gives him the most pleasure.
20Now may the God of peace, who through the blood of the eternal covenant brought back from the dead our Lord Jesus, that great Shepherd of the sheep, 21equip you with everything good for doing his will, and may he work in us what is pleasing to him, through Jesus Christ, to whom be glory for ever and ever. Amen (13:20–21).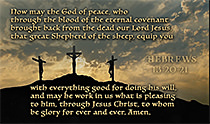 These two verses likely rank among the most powerfully worded blessings found in the Scripture. They include a collection of the author's four expressions of passionate concern for his readers' spiritual growth, while stressing the major factors that make such growth possible. In his final words, he gives a summarized doctrinal position of his "Hebrews" letter: (1) God is a God of peace; (2) God raised Jesus from the dead; (3) Jesus was "that great Shepherd of the sheep" made possible by the "blood of the eternal covenant"; and (4) therefore, may Jesus "equip you with everything good for doing his will." This is one glorious outpouring of good wishes and confident certainty. With such marvelous resources as these, who can excuse their failure to become the man or woman whom God intends you to be, now and going forward?
The lesson is readily apparent to anyone who understands the gospel of God's grace. As sinners, we're helpless before him. Our only hope comes from a Savior. Thankfully, God has provided Good Shepherd Jesus for us. Without strength and without recourse, Christians remain dependent on Christ as the great Shepherd of his sheep (v. 20).
A covenant is a peace agreement (Ezekiel 34:25). For that specific reason, v. 20 calls God "the God of peace." Here, peace represents that right relationship between God and his people, which is the desired result of the new covenant (Heb. 8:10–12); and it will never end. It's as certain as the fact that Jesus Christ is God (1:8–18; 13:8); so certain because the new covenant relies on God's promises (6:17–18). And everything in God's word can be fully trusted and always succeeds. Whatever God calls his people to do, he promises in his new covenant to fully equip them for that purpose (vv. 20–21).
Christians today pray for each other, not just for themselves. Here, the author has requested prayer from his readers (vv. 18–19), and he prays for them. In the first part of his prayer, he called Jesus "that great Shepherd of the sheep." While a shepherd looks after his sheep, in the same manner Jesus cares for God's people. In the second part of the prayer, the author asks God to provide for and equip his readers. He trusts God to do these things through Jesus, the "great Shepherd." The author has prayed to his audience in the name of Jesus, mentioning Jesus' name as the reason for his prayer. But the author isn't using Jesus' name merely to gain attention for his request; he asked God to do these things because of Jesus and his name. And yes, the Lord is working in us in ways that are "pleasing to him, through Jesus Christ" (v. 21).
In Conclusion (vv. 22–25)
The audience is now asked to please take most seriously what has been written in this letter, which has been kept as brief as possible. We're told next that Timothy has been let out of prison and may accompany the author on an upcoming visit. The author then asks all to "Say hello to your pastoral leaders and all the congregations. Everyone here in Italy wants to be remembered to you."
22Brothers and sisters, I urge you to bear with my word of exhortation, for in fact I have written to you quite briefly.

23I want you to know that our brother Timothy has been released. If he arrives soon, I will come with him to see you.

24Greet all your leaders and all the Lord's people. Those from Italy send you their greetings.

25Grace be with you all (13:22–25).
Finally, this letter's closing is short. These final verses continue to express the author's heartfelt affection, as he addresses his friends and in his plea to them to take the words of his exhortation in a well-meant sense. The writer's own view of his message is that he's simply fulfilling the same ministry that he'd urged upon his readers in 3:13. His "word of exhortation" in v. 22 comes from the Greek word "paraklesis," which relates to comfort or consolation. It's reminiscent of his encouraging words in 10:25. If we look back, we can easily find expressions of his passionate concern for the people's spiritual welfare; this care and concerns have been expressed throughout this letter.
In v. 23, the author announces to his friends that Timothy has now been released, presumably from prison, and may be able to join him on his proposed visit to their community. And, in v. 24a's "Greet all your leaders and all the Lord's people," his readers were asked to personally greet their leaders for him. This phrase appears to indicate that this letter wasn't addressed to church leaders themselves but to the church at large, including possibly some home churches, as in "all the Lord's people." And v. 24b's "Those from Italy send you greetings" isn't meant to suggest that "Hebrews" was written from Italy; if that were so, the author would have written "Those in (or of) Italy." Instead, the phrase designates a group of Italians who lived where the author wrote this letter.
We know neither the author's name nor the circumstances and event to which he refers in v. 23. But it seems that Timothy and he had been in prison due to their belief in and relationship with God. Timothy was now free. The author requested prayer that he too would soon be free (v. 19), enabling him and Timothy to travel together. The author wanted to bring Timothy to visit the people who'd received this letter. Then he and Timothy would both be able to teach them even more. This reference to Timothy helps to illustrate a theme that runs through chapter 13 wherein we find the characteristics of true leaders and the confidence we're to develop and maintain with respect to our spiritual leaders: "Remember your leaders, who spoke the word of God to you. Consider the outcome of their way of life and imitate their faith" (13:7) and "Have confidence in your leaders and submit to their authority. . ." (v. 17).
In his relationship with Apostle Paul, Timothy exemplified the disposition of a follower. He remembered Paul, observed the fruit of his faith, and imitated it, submitting gladly to Paul's leadership. He was thankful for his spiritual father who became his mentor. This was why Paul the leader saw his follower and disciple, Timothy, being "filled with joy" (2 Tim. 1:4). And, here in 13:25, the closing "Grace be with you all" suggests the author's close association with Paul. This benediction is identical with the way Paul ended his letter to Titus (Titus 3:15). In addition, this closing verse's granting of grace was Paul's repeated way of closing his letters (as in 2 Thessalonians 3:18).
Pastor Ray C Stedman wrote this about the essence of this epistle: "This letter was written at a time when the winds of change were blowing strongly throughout the Roman Empire, and most strongly within Judaism. At such times, humans tend to cling to familiar patterns and resist change, simply because it is unfamiliar and therefore threatening. But their real need is for recognition of the things that cannot change and receptivity toward the things which must be changed."
He goes on to say, "The epistle to the Hebrews is a document that was greatly needed as the world lurched toward judgment and a new creation, based on the new covenant, gradually emerging from the crashing chaos of human events. Let us be grateful for its wise and careful teaching and obedience to its passionate concern for a constantly maturing faith."

The practices of prayer (vv. 18–19), of greetings (v. 24), and of farewells (v. 25) are usual inclusions among epistle benedictions. They're also common with other New Testament letters. These literary conventions ought to remind readers, especially today, that we've completed our review and study of an authoritative letter whose purpose was to instruct and encourage all its readers to maintain a firm and functioning faith.
The author's "Grace be with all of you" blessing is a fitting end for an epistle that documents the passing of the old covenant and the initiation of the new covenant. Grace be with us all, indeed, under what God has given us through the superior Savior, Jesus Christ! Amen. To better appreciate your personal application of this letter, please read Warren's closing commentary on "Hebrews," which includes his summary, closing comments, and questions. Then you'll be ready to take his 25-question open-book "Hebrews" quiz.


---
It Makes You Wonder . . .
Q. 1 Of what could the writer of v. 18 be sure? Why?
Q. 2 What does v. 22 ask you to take most seriously? How are you doing with that urgent request?
---
New International Version (NIV) or view it in a different version by clicking here.
— Listen to chapter 13, narrated by Max McLean.
---