Hebrews 11:32–40 . . .
"More Faith Heroes"
We were introduced in our previous commentary, titled "The Faith of Patriarchs, Moses, and Others," to several Old Testament inductees into the Hebrews Chapter 11 Hall of Faith. Then and today the Lord graciously blesses his people; we should never be ashamed to accept and enjoy his valuable gifts. Yet, as suffering and hardship are often God's means for refining and strengthening our faith, we must remember that faith proves itself in times of great adversity. Following his inductee orientation in 11:20-31, the author will now demonstrate this fact in today's passage, placing a special highlight on those who trusted God in the midst of the outstanding difficulties.
We'll recognize and appreciate acts of faith of additional Old Testament saintly exemplars who believed outside their bounds of toleration, based upon their extraordinary faith in God. Certainly, many old-covenant saints accomplished great things by trusting in God (vv. 32–34). Others did similarly, enduring death, dismemberment, scourging, homelessness, and more (vv. 35–37). The spiritually blind see this as foolishness (1 Corinthians 2:14). But in God's view, "the world was not worthy" of these faithful men and women (v. 38). Many of them persevered in faith while in tremendous pain (vv. 35–40).
Faith Enables Flawed People to Be Successful (11:32–34)
Our author begins this passage by showing how God sometimes blesses those who trust him by providing them with spectacular results.
32And what more shall I say? I do not have time to tell about Gideon, Barak, Samson and Jephthah, about David and Samuel and the prophets, 33who through faith conquered kingdoms, administered justice, and gained what was promised; who shut the mouths of lions, 34quenched the fury of the flames, and escaped the edge of the sword; whose weakness was turned to strength; and who became powerful in battle and routed foreign armies (11:32–34).
Incredible first verse! "And what more shall I say? I do not have time to tell about..." The author isn't only asking, Do I have to keep going? Isn't it now obvious that faith has always been what it's all about? He's also saying, There wouldn't be enough time for me to give you every faith example found in Scripture; it's filled with numerous examples!
Throughout "Hebrews," there are numerous comprehensive descriptions of Jesus' superiority (1:1–3:6; 4:14–5:10; and 6:13–10:18). Together they make it clear that this letter's original audience seriously doubted whether they were better off than the saints who preceded them. The sufferings that the Hebrew-Christian audience endured caused them to question the new covenant's arrival. They began to yearn for the old covenant's ways and its miracles of deliverance. They thought that if they abandoned Christ, in favor of the old covenant, they'd be okay.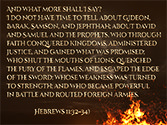 In addition to the faith heroes previously highlighted in vv. 20–31, the writer, unable to provide a detailed history of individuals, now groups together a number, referring to their many great faith deeds they performed. He presents the Judges period, listing the four judges to whom he devotes the most text. Next he introduces David and Samuel, finally "the prophets," who include not only Elijah and Elisha but Isaiah, Jeremiah, Ezekiel, and the twelve minor prophets. Fortunately, all their details are described in Scripture, though not in chronological order: Gideon trusted God for victory in battle (Judges 6) as did Barak (Judges 4); with all of his shortcomings, Samson's final act of Philistine destruction came as he called upon God (Judges 13); Jephthah also trusted God to enable victory (Judges 11); David was faithful to God's promises throughout his life (1 Samuel 16 and 17); and numerous unnamed Old Testament prophets put their faith in God.
For now, what's interesting is that the first six men suffered serious shortcomings; in spite of their flaws, God honored their faith.
(1) Gideon was cowardly at first; God had to coax him to to obey. Asked to take out the biggest, baddest enemy of the people that had oppressed Israel for seven years, he nervously asked God for signs of assurance. After his hard-to-believe victory, in which his 300 men overtook 135,000 Midianite soldiers, he sadly made an ephod that enticed Israel into idol worship (Judg. 8:24–27). In spite of this and other failures, the author declared Gideon to be a faith hero.
(2) Barak followed one of prophetess Deborah's judgments and enjoyed a significant victory for Israel by amassing a 10,000-man-strong army that destroyed 900 fully equipped enemy chariots; sadly for Barak, he was fearful to engage in that battle. But he recognized Deborah's authority that God had given her, so he faithfully obeyed a woman, which was rare in ancient times. A man of great courage, he had faith that God would intervene on Israel's behalf (Judg. 4:4–15).
(3) Samson successfully trounced the Philistines, conflict after conflict, yet he blundered in succeeding years as a result of his lust for foreign women (Judg. 14–16). A man of faith, he was also a man of the flesh who made many mistakes. His life demonstrates the importance of relying on God's strength, not one's power; following God's will, not our presumptions; seeking the Lord's wisdom, not our understanding.
(4) Jephthah is a lesser-known biblical judge. He was a prostitute's son who's half-brothers renounced him. Elders of his home town pled with him to lead them in a war that he won. Then he made a reckless promise to sacrifice the first thing that would exit his house when he returned from armed conflict. Sadly, his only daughter came out of the house to greet him; he senselessly honored his foolish promise (Judg. 11).
(5) David had requisite faith, even as a teenager, tending his father's sheep before defeating Goliath. He also showed strong faith while waiting in the Cave of Adullam, playing his harp in Saul's presence, and obeying father God in humility. While we know him as being a man after God's heart, regretfully he later committed adultery, which was followed by murder to conceal the evidence (2 Sam. 11–12).
(6) Samuel was a godly man, however, he was unable to raise his sons to righteously devote themselves to the Lord. He and many other prophets, after boldly expressing God's truth, often suffered for making such testimonies. Joining those men listed in this opening verse, all had unmistakable faults. Nevertheless, God used them all because they faithfully trusted him in their very challenging situations.
The anonymous judges, prophets, and martyrs — without human weapons, often against worldly wisdom and natural laws — "conquered kingdoms" and "gained what was promised" (v. 33). They succeeded because, through faith, they followed and believed wholeheartedly in Jesus — the Creator, heaven's ruler, "the pioneer of salvation" (2:10). He has chosen to provide his infinite power to those people having weak faith but will nevertheless "lift up [their] eyes to the mountains — from where help comes" (Psalm 121:1). With faith, all can be gained; without it, all will be lost.
Most of the above-referenced faith-heroes didn't represent consistent, steady, enduring faith. One thing on this list of flawed people who succeeded impressively, even miraculously, is common to everything accomplished by faith: their "weakness was turned to strength" (v. 34). None of the accomplishments happened because of human strength or wisdom; it was due to faith-fueled power at work. Faith demands that people recognize their weakness while appreciating and yielding to God's strength. Even though they're flawed, God uses those who trust him to accomplish unexplainable things, only by his power. 
"An Even Better Resurrection" (v. 35)
See how, in the middle of v. 35, the author shifts direction, showing in the next three verses that we sometimes find God blessing those who trust him with the grace to endure horrible persecution without wavering.
35Women received back their dead, raised to life again. There were others who were tortured, refusing to be released so that they might gain an even better resurrection (11:35).
God's old-covenant people certainly performed mighty works faithfully: They conquered kingdoms, performed miracles, and accomplished many other significant tasks (vv. 32–35a). However, at day's end, they still faced an unmistakable disadvantage: They hadn't been privileged to see and be with the Messiah during their lifetime (vv. 13, 39–40). Add to that the fact that not every old-covenant church member enjoyed mighty victories. God's old-covenant people also had to face death as a result of their faith efforts (v. 35b).

Our six noteworthy faith heroes weren't the only ones who the author inducted into the Hall of Faith. Those next in this list, starting with v. 35's "women who received back their dead," were just as faith-heroic as those first six and the many who were highlighted in vv. 20–31. Perhaps they had greater faith, since it would have been almost impossible to trust God while being lashed, stoned, chained, imprisoned, or sawed in two (v. 37). The description of "others who were tortured, refusing to be released," may refer to incidents during wicked pagan king Antiochus Epiphanies' reign of terror from 175–164 BC. [Incidentally, the author uses the term "By faith" repetitively (21 times in this chapter in the NIV, and 38 times throughout this epistle, as shown on this list).]
Faithful Old Testament Sufferers (vv. 36–38)
In addition to the women in v. 35, we'll now see more examples of powerful faith, a specific type of power: to endure and not give up, which is a faith-fueled perseverance.
36Some faced jeers and flogging, and even chains and imprisonment. 37They were put to death by stoning; they were sawed in two; they were killed by the sword. They went about in sheepskins and goatskins, destitute, persecuted and mistreated — 38the world was not worthy of them. They wandered in deserts and mountains, living in caves and in holes in the ground (11:36–38).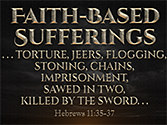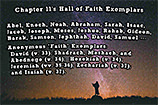 Consider these righteous Old Testament sufferers: Joseph, David, Elijah, and Jeremiah. Every one of them was, to a degree, "destitute, persecuted and mistreated" (v. 37). Some of them were killed because they faithfully committed themselves to following God's directives. Prophet Zechariah was stoned to death in the temple courtyard as Jerusalem's King Joash ordered (2 Chronicles 24). In addition, ancient Jewish writings outside the Bible declared that Jeremiah had been stoned to death, while some similar writings reveal that Prophet Isaiah had been sawed in half. And, 1 Kings 18:4–14 informs us of the Lord's prophets whom wicked Queen Jezebel had murdered with the sword.
Although none of us has yet resisted the shedding of blood as a result of our righteous efforts (12:4), if we do suffer for Christ's sake, we'll be affiliated with many of God's people down through history "of whom the world was not worthy" (v. 38).
The Delay of Fulfillment of the Promises Explained (vv. 39–40)
In chapter 11's closing verses, the author explains the delay in God's fulfillment of the promise to Old Testament saints. It was so that his readers might be included in those promises. God will therefore bless all who trust Him by giving them eternal rewards.
39These were all commended for their faith, yet none of them received what had been promised, 40since God had planned something better for us so that only together with us would they be made perfect (11:39–40).
Regarding these faith-filled witnesses, v. 39 says that "none of them received what had been promised." What promise? Jesus' crucifixion and resurrection are in view here. His first advent fulfilled what had been promised: He perfected every saint and us with his blood sacrifice on the cross so he could pay our sin debt. They and we are "made perfect" (v. 40). The Greek verb teleioo means to make complete. Like us, every faithful saint could be made complete only after Jesus' sacrifice on Calvary's cross had been finished.
Our author has herein made the point that Father God's children can expect to gladly bear some degree of suffering for Jesus' sake. If the old-covenant saints had to endure suffering for Christ, whom they saw only from afar (v. 13), then new-covenant saints must also be prepared to accept and undergo suffering for him and his powerful name.
From time to time and from place to place, the degree of suffering will vary. Nevertheless, it should be clear that Father God's children will continually experience suffering until Christ returns. Today, look at the suffering you may be experiencing; then ask God to help you endure and tolerate it faithfully, no matter the difficulty. Clearly, the author's point is that, if Old Testament saints were faithful through all of their trials, even though they didn't receive the promise of Christ in the flesh, how much more should we be faithful, since we now and forevermore have Christ!
These Old Testament people and their accomplishments convincingly point out the precedent for faith's power and perseverance. How could they be tempted to again follow a covenant, based on man-made traditions, when the entire Old Testament affirms on almost every page that God commends us for our faith? Of all chapter 11's "faith" examples, not one of them received what was promised to be "better," "complete," and anticipated as a reward. They didn't have that "better hope" (7:19); they didn't know a "better covenant" (7:22); they weren't given "better promises" (8:6) made possible by "better sacrifices" (9:23); and they couldn't hold onto "better and lasting possessions" (10:34). Nevertheless, they'd been blessed by God who'd given each of them power and perseverance.
Just like the Old Testament saints, we're obliged to live by faith in God's promise, as we await what's so much "better," partaking of our final consummation of Jesus' return. We must endure, no matter the trials and persecution we'll face. We'll survive by fixing our eyes on Jesus (12:1–3). Today, we've already begun to experience that which is "better." So how much more should the power and perseverance of faith be at work in our life?
Closing Considerations
Faith is the greatest factor enabling us to reach our divinely intended potential. While there are many examples of faith in the Bible, the definition in 11:1 assures us that faith requires having "assurance about what we do not see." Worldly wisdom, however, stresses the need to make prudent decisions based on things we clearly see. However, chapter 11 functions precisely on faithfully following and believing what you do not see. To achieve the highest potential in any human life, God says: "Live on the basis of what you do not see." Thus, faith means acting on the basis of what you cannot now see with the physical eye.
Although most of us would love to have the heroic faith of the men and women listed in the Hall of Faith, few of us are willing to go through the process that God uses to develop this element of trust. We love reading about the great victories and accomplishments of those who relied upon the Lord, but we cringe at the descriptions in vv. 36–38.
One area the Lord deals with is our "character." His goal is to shape us into the image of his Son. When anything or anyone becomes more important to us than the Lord, it becomes an idol in our life. To protect us from such idolatry, God sometimes uses adversity to strip away everything we've relied upon so that we'll cling only to him. If we trust and surrender to him, our faith will be purified and strengthened through our affliction.
What's the lesson here? Every one of these Old Testament heroes acted by faith. They all had requisite "confidence in what [they hoped] for and assurance about what [they didn't] see." Therefore, such demonstrations of their faith are meant to strengthen our faith.
---
It Makes You Wonder . . .
Q. 1 Having completed your study of chapter 11, how many faith heroes included herein can you recall?
Q. 2 Which faith hero impressed and inspires you the most? Why?
---
New International Version (NIV) or view it in a different version by clicking here.
— Listen to chapter 11, narrated by Max McLean.
---