Hebrews 12:12–17 . . .
"Supporting One Another"
We saw in Warren's previous Bible-study commentary titled "Faith's Pioneer and Perfecter" (12:1–11), how the author encouraged his readers to "persevere in the race" as they live as Christians, following Christ's example and knowing that they were God's children who'd received his enabling grace (12:1–4). Through encouraged discipline, the writer then urged them to follow the example of Old Testament saints, persevering in the midst of persecution by focusing on the person and work of Christ. He pointed out that hardship and discipline were certain signs to all his readers that they're children of God because fathers discipline their children as a sign of their love and concern (12:5–11).
In today's study, we'll see that God's grace enables the audience, including us, to remain in peace with all men and to live righteous lives (vv. 12–15). And, in stark contrast to those who were righteous, the author presents Esau who, being immoral and having disdained the things of God, suffered the resulting consequences (vv. 16–17).
Running the Race of Faith (12:12–13)
Following the metaphor in our previous study about "running the race marked out for us" (12:1), the writer continues using athletics as a spiritual growth analogy. In prior verses, he mentioned that God's discipline was something to be expected from a good father, especially from a heavenly Father (12:5–9). Discipline corrects us of our sinful proclivity; it trains us to exhibit a deeper faith and be more trusting of God. In these first two verses, we see words that a trainer could easily have spoken to an athlete. Spiritually, this passage encourages Christians to press on through hardships.
Our author understands well our tendency to reject well-intentioned advice while concentrating instead on our misery. We derive a kind of perverse pleasure from so doing. That's why he urges, in vv. 12–13, So don't sit around on your hands! No more dragging your feet! Clear the path for long-distance runners so no one will trip and fall, so no one will step in a hole and sprain an ankle. Help each other out.
12Therefore, strengthen your feeble arms and weak knees. 13"Make level paths for your feet" [taken from Proverb 4:26], so that the lame may not be disabled, but rather healed (12:12–13).
The author's "Therefore" introduces readers to his two-part individual and corporate exhortation. He's first exhorting his readers to individually become courageous because of Christ's saving work, while realizing that their troubles arise from a loving, heavenly Father for their benefit. The individual application is most evident in Proverbs 4:26 (shown above). Secondly, his appeal was made to corporately encourage and strengthen fellow-Israelites. God's people are to take courage while encouraging one another. After all, they know that God will bring his people back from captivity to enjoy his promised blessings in their land; beyond that, they can appreciate knowing that God will pour out his wrath on all who'd oppressed them.
The two specific actions that our caring author ordered are these: (1) "Strengthen your feeble arms and weak knees" (v. 12), that is, deal first with yourselves. Get your own hearts right toward your troubles by coming boldly to the throne of grace "so that we may receive mercy and find grace to help us in our time of need" (4:16) by "fixing our eyes on Jesus, the pioneer and perfecter of faith" (12:2). He's the coach and designer of the course. It's only after we sense and appreciate our receipt of his help that we'll be able to help others find it; (2) "Make level paths for your feet, so that the lame may not be disabled, but rather healed" (v. 13), that is, be mindful of your influence on others, taking care that you don't become a stumbling block to those whose faith may be much weaker than yours.
In v. 13, the writer again refers to the idea of God's discipline being used to "train" a Christian believer. For us today, this verse suggests what a physical therapist might recommend — athletic training designed to strengthen a weakened body part. When we remain on the correct spiritual path, what's weak can be strengthened. However, when we veer off of the correct, well-lit, level path, we're apt to suffer a serious injury, in both the personal and corporate senses. The pictures here of strengthened arms and knees and level paths for feet speak of one's ability and readiness to work for and faithfully follow the Lord. Warning: Such readiness is first to go when one yields to personal discouragement.
Exhortation to the Whole Community of Faith (vv. 14–17)
The corporate application becomes even more evident in verses 14–17.
Warning and Encouragement

14Make every effort to live in peace with everyone and to be holy; without holiness no one will see the Lord. 15See to it that no one falls short of the grace of God and that no bitter root grows up to cause trouble and defile many. 16See that no one is sexually immoral, or is godless like Esau, who for a single meal sold his inheritance rights as the oldest son. 17Afterward, as you know, when he wanted to inherit this blessing, he was rejected. Even though he sought the blessing with tears, he could not change what he had done (12:14–17).
The author further exhorts his readers to pursue not only a life of peace but also one filled with holiness. He then adds a warning: that "without holiness no one will see the Lord." Our aspiration of peace and holiness is not optional but mandatory! Holiness isn't something we can set aside so we'll be able to pursue our own pleasures. Christ died to forgive our sins, to bring peace, and make us holy. We mustn't approach peace and holiness in our lives as if doing so was optional. We're to "Make every effort to live in peace with everyone and to be holy" (v. 14).
Verse 15 opens with an advisory directive: "See to it that." Rick Renner in Sparkling Gems from the Greek says, "The phrase comes from the Greek word episkopos, meaning to look over or to take supervisory oversight. The use of this word in this verse means that it's our responsibility to watch, direct, guide, and give oversight to what goes on inside us, especially our emotions and thoughts. And it's that 'inside part' — the part we control — for which God will hold us responsible. Why? Because we've been charged with the personal responsibility to oversee what goes on inside our soul. We have the last word! We must decide whether or not a wrong settles down into our soul and starts to take root in our emotions." [1]
Renner goes on to say [2] that the word "root" is the Greek ridzo, referring to a root of a tree, denoting something that is established or firmly fixed. Using ridzo here, God is telling us that if we don't repent of bitterness and remove it from our life, it becomes deeply embedded in our soul. When a "root of bitterness" gets deeply embedded in our mind and emotions, it's no longer just a root but a mental stronghold of bitterness. It must be eradicated through our repentance. We're to rip these destructive roots clear out of our soul.
Here's the corporate application: Verse 15 further suggests the role we're to play at being our "brother's keeper." Contextually, we see "brothers" as being those who do and don't believe. While a brother who resembles a "bitter root" or weed who "grows up to cause trouble" could be a true believer, it's more likely that he or she is an unbeliever. And there's only one reason weeds grow out of control in a garden: No one took the appropriate time or made the requisite effort to uproot and remove them. When a garden is choked by weeds, the gardener can't complain, I simply don't know how this happened, right under my nose! It occurred because the gardener was irresponsible with his or her garden, failing to exercise due diligence and to "see to it that no one falls short."
"That no bitter root grows up to cause trouble and defile many" shouts a strong warning to readers. If we don't rebuke and hinder bitter root development, trouble will result! The phrase "cause trouble" is from the Greek word enochleo, which means to trouble, to harass, or to annoy. It refers to something inside that bothers and upsets you so much that you're constantly pestered by thoughts about it. The word "defile" is the Greek word miaini [3]. It means to spill, to spot, or to stain. This verse is telling us: If you are inwardly upset with someone and don't get rid of those raw emotions, it won't be too long until you open your mouth and verbalize those ugly inward emotions. Assuming that the author might have suggested or assumed that some people in his local churches were unbelievers, capable of perverting others, he brings to attention Esau, in vv. 16-17, reminding his readers never to become "godless like Esau."
Pastor/teacher/commentator Bob Deffinbaugh says this about why Esau had been made an example of godlessness: First, we should assume that nearly every church has at least one Esau in their midst. He was a descendant of Abraham (and Isaac, of course). He was thus living in close proximity to those whom God would favor with the blessings promised Abraham and his descendants. But in the end, living in close proximity to God's blessings is not the same as entering into them. Every church should be alert to the possibility that some who worship among them have never truly come to faith. I believe that the author is not merely warning the Hebrews about such people, but is exhorting the church to seek to win them to faith."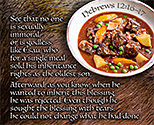 Deffinbaugh continues: "Second, Esau's sins are typical of the sins of an unbeliever, and in particular they are typical of our culture. Esau traded his birthright for a bowl of stew. In today's language, we might say that he traded God's blessings for a Big Mac, or heaven for a Happy Meal. Esau was a man who forsook eternal blessings for momentary pleasure. In this sense, he is the exact opposite of Moses, and of those listed in chapter 11's Hall of Faith. . . Any man who puts immediate pleasure ahead of eternal blessings is headed for trouble. If Esau would trade his birthright for a single meal, why would he not trade eternal blessings for a moment of passion? Third, Esau's sin is typical of the sin some of the Hebrews were considering. As close as he was to people of faith, he did not enter into this faith. Instead, he considered his birthright of little value or significance, and so he rejected it for a moment's pleasure at the dinner table."
The Hebrews to whom this great epistle was addressed were Jews who'd been especially blessed. Nevertheless, in spite of their blessings, many of them inevitably rejected Jesus being Messiah. And, just as Esau had done, they exchanged God's eternal blessings for their hope of an immediate, earthly kingdom. While many hadn't accepted Jesus, some were flirting with the possibility of abandoning their faith so they could avoid the suffering that loomed just around the corner for them. Esau was an appropriate example of a "bitter root [who] grows up to cause trouble."
Closing Considerations
We should come away from our study of 12:1–17 with at least these three points: (1) Self-discipline is necessary to finish the race (12:1–3); (2) adversity in a Christian's life actually becomes divine discipline and is proof of our sonship and God's love and care for us (vv. 4–11); and (3) discipline is essential to the ongoing work of the church (vv. 12–17).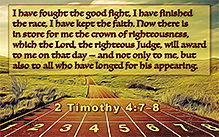 In today's six-verse passage it's clear that suffering is often God's way of building up and training us. Christians who respond to trials by seeking God, in faith, can avoid the fate of less-faithful people, such as Esau. It's by the power of the Holy Spirit that we Christians have a birthright waiting for us as our inheritance in heaven, so we may finish our race well and receive God's crown of righteousness (2 Timothy 4:7–8). The author has presented us with this picture: When you run the race, you stay on the track. When you leave the track, you find your feet on uneven, challenging terrain; you'll likely step in a hole or trip over a boulder, fall, and become lame. To avoid such a tragedy, remain on the preferred, God-designed track, running your race that's been prescribed in chapter 12's opening verse: "Run with perseverance the race marked out for us." No matter how long the race, we must keep our eyes on Jesus, "the pioneer and perfecter of faith" (12:2).


---
It Makes You Wonder . . .
Q. 1 What kind of race should believers run?
Q. 2 Who sets the race's parameters?
Q. 3 Is it a race we define and design for ourselves?
---
New International Version (NIV) or view it in a different version by clicking here.
— Listen to chapter 12, narrated by Max McLean.
---