Luke 8:40–56 . . . Bible Study Summary with Videos and Questions
Raising Jairus' Daughter and Touching Jesus' Garment
There are two miracles described in today's text, which are carefully intertwined. In reality, the miracle of the healing of Jairus' daughter, which comes first, is interrupted by the healing of a hemorrhaging woman. For a short time, it appears that the healing of this woman has cost the life of Jairus' young daughter.
There's tension in this text: Why would Jesus take the time to attempt to identify the person who touched him, which would seem to be impossible to do and when it threatened the mortally ill girl's life? Our study today will help us answer that question. We'll also discover how this divine delay benefited all involved, including Jairus and his daughter.
Background Review of Previous Passages
Jesus had recently crossed the lake, the Sea of Galilee, with his disciples. In the midst of that crossing, a severe storm arose, which Jesus stilled with one word. When they landed on the other side, they were met by the raving demoniac, from whom Jesus cast out a host of demons. When Jesus and his disciples landed, once again, at Capernaum, on the home side of the lake, they were met by a large crowd (v. 40, shown below) that had gathered to wait for and greet Jesus. Likely, those in the other little boats that had been on the lake (Mark 4:36) and had witnessed his stilling of the storm, had gone back to port, reporting how Jesus had dealt miraculously with the storm. Some people might have also heard reports of the demoniac's deliverance. As a result, the crowd was expectant and exuberant seeing Jesus return. Apparently Jesus was teaching by the seashore (cf. Matthew 9:1–17); it was during his teaching that Jairus arrived, begging Jesus to come to his house to heal his daughter.
Luke and Mark depict Jairus as describing his daughter's condition as being critical — she was dying. Matthew's much more terse account suggests that she'd already died. As precious time lapsed, it's not difficult to imagine that Jairus may have suspected that the worst had already happened. Nevertheless, even if she'd died, Jairus believed that Jesus' touch could heal her (Matthew 9:18–19). Jesus consented, and they were on their way to his house when a woman made her way to Jesus, unseen, or at least unnoticed by the crowd. She stole a healing moment by touching his garment, which necessitated a time-consuming delay, preventing Jesus from arriving at Jairus' house to deter his daughter's death.
The woman, whose name isn't given, had been suffering from a hemorrhage for twelve years. Because her ailment was "female" in nature, it's not difficult to understand why she approached Jesus, unseen, from behind, while Jairus had faced the Lord, falling at his feet, beseeching the Lord to bring healing to his daughter; the woman never asked a thing.
A casual reading of Luke's account may suggest a ho-hum response, but that would fail to give this remarkable woman the credit she deserves for her accomplishment. You might think it a minimal effort for a person to reach out and touch Jesus, but this was an accomplishment worthy of our admiration, as follows.
1. There's the obstacle of her ceremonial uncleanness, as defined by Old Testament law. The book of Leviticus clearly identifies this woman's condition as "unclean," which should have restricted her to remain home. Whoever touches an "unclean" person will also become unclean, requiring a washing of clothes and a bathing in water; he who touches an unclean person will remain unclean till evening (Leviticus 15:19, 25–27).
2. There's the obstacle of a large crowd pressing forcefully upon the Lord Jesus. As a result, getting to Jesus would have been a difficult task for anyone (v. 42b).
3. The woman had to work her way through an uncooperative crowd while in a weakened condition. This woman suffered from a prolonged illness, one which had gotten progressively worse (Mark 5:26); thus her condition was very poor. It might have been a major undertaking for her to get up out of bed, let alone fight her way through a crowd.
4. Finally, the woman had to reach Jesus by forcing her way through an aggressive and crushing mob, and yet in a way that did not draw attention to herself. It's especially clear in Luke's account that the woman desired anonymity (v. 47). She was a woman with a condition that made her unclean, a woman with a "female problem," one that she wouldn't care to reveal to a large crowd. She had to reach Jesus forcefully, yet unnoticed. It's amazing that she did just that.
The Lord's Divine Delay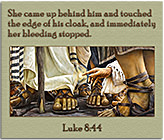 Upon touching the Lord's garment, the woman was instantly healed. No doubt she intended to remain as inconspicuous as possible, allowing Jesus and the crowd to pass on, leaving her alone, unnoticed, and eventually be able to return to her home and a normal life. But Jesus wouldn't have it this way. Astounding the disciples and others, Jesus stopped and inquired as to who'd touched him.
To the disciples — especially Peter, their spokesman (Mark 5:41) — this was incredible. Peter spoke for the others when he said, "Master, the people are crowding and pressing against you" (v. 45). Seeking the identity of one person, among a multitude of touchers and shovers who'd touched him, was seemingly an impossible task. What difference did it make anyway? Even more distressing, it caused what seemed to be an unnecessary delay for the "needlessly endangered" daughter of Jairus, who was at death's virtual door.
What was that reason for Jesus' divine delay? Consider these two answers: (1) His delay was for the good of the woman who'd been healed; (2) and his delay was for the good of Jairus and his daughter.
For the woman who'd been healed Let's first consider how this delay was good for the woman. Initially, no one admitted that they'd touched Jesus; everyone denied it (v. 45); there seemed to be a stalemate. But Jesus wouldn't let the matter drop as his disciples protested. Finally, the woman recognized that she had to confess. She fearfully went to Jesus and fell at his feet. Before the crowd, she bore witness as to why she'd touched Jesus, and how he'd instantly healed her (v. 47). Jesus had very few words to say to her, but they were very important. Let us look at them carefully: "Daughter, your faith has healed you. Go in peace" (v. 48, emphasis added).
It's clear from his statement that: He wouldn't allow the woman to have a second-class healing; he'd have no misunderstanding as to the real cause of the woman's healing; he did not want the woman to experience guilt for "stealing a healing"; and he wouldn't allow the woman's faith to remain anonymous.
For the good of Jairus and his daughter As the woman went her way, a messenger from Jairus' house arrived to say that the girl had died. All hope, he suggested, was lost; no longer was there a need to" trouble the teacher" (v. 49). However, Jesus will soon defeat death (yet again). Jesus might have healed a sick child, but the crowd didn't view him as having power over death. Thus, death for Jairus' daughter would be the death of their hope for her healing. But the messenger's account was wrong, and Jesus quickly countered it by telling Jairus: "Don't be afraid; just believe, and she will be healed" (v. 50, emphasis added).
Jesus drew near Jairus' house, taking from the crowd three of his closest disciples. Inside the house, a commotion had already commenced. While a group of people were mourning the death of his daughter, Jesus told them that the girl wasn't dead, but asleep. Taking the child by the hand, he commanded her to arise (v. 54). Immediately her spirit returned and she arose, stood up, and walked around. Her parents were surprised and delighted.
In conclusion We've all experienced God's divine delays. Whatever it is that we've asked God to do now, whatever it is that's been delayed in our lives, if God has promised to do it, he'll do it. The greater the delay, the greater our delight will be when God proves himself faithful. Amen.
---
It Makes You Wonder . . .
Q. 1 Why do you think Jesus caused the hemorrhaging woman the embarrassment of having to tell her story openly?
Q. 2 What lessons does the Jairus' Daughter passage teach you as a disciple? What do you think you're to learn from this?
---
This Week's Passage
Luke 8:40–56 (Lukas)
New International Version (NIV)
[To view it in a different version, click here; also listen to chapter 8.]

† Watch this passage-specific video clip from Jesus Film Project titled "Jairus' Daughter Brought Back to Life."
Jesus Raises a Dead Girl and Heals a Sick Woman
40Now when Jesus returned, a crowd welcomed him, for they were all expecting him. 41Then a man named Jairus, a synagogue leader, came and fell at Jesus' feet, pleading with him to come to his house 42because his only daughter, a girl of about twelve, was dying.
As Jesus was on his way, the crowds almost crushed him. 43And a woman was there who had been subject to bleeding for twelve years, but no one could heal her. 44She came up behind him and touched the edge of his cloak, and immediately her bleeding stopped.
45"Who touched me?" Jesus asked.
When they all denied it, Peter said, "Master, the people are crowding and pressing against you."
46But Jesus said, "Someone touched me; I know that power has gone out from me."
47Then the woman, seeing that she could not go unnoticed, came trembling and fell at his feet. In the presence of all the people, she told why she had touched him and how she had been instantly healed. 48Then he said to her, "Daughter, your faith has healed you. Go in peace."
49While Jesus was still speaking, someone came from the house of Jairus, the synagogue leader. "Your daughter is dead," he said. "Don't bother the teacher anymore."
50Hearing this, Jesus said to Jairus, "Don't be afraid; just believe, and she will be healed."
51When he arrived at the house of Jairus, he did not let anyone go in with him except Peter, John and James, and the child's father and mother. 52Meanwhile, all the people were wailing and mourning for her. "Stop wailing," Jesus said. "She is not dead but asleep."
53They laughed at him, knowing that she was dead. 54But he took her by the hand and said, "My child, get up!" 55Her spirit returned, and at once she stood up. Then Jesus told them to give her something to eat. 56Her parents were astonished, but he ordered them not to tell anyone what had happened.
---